Artist/Instructor: Jennifer Koury
Dates: October 15, 22, 29, and November 5
Times: 10:30 AM-12:30 PM
All supplies are included.
Fee: $120 Members | $160 Not-Yet Members
This workshop is a progressive series to develop your skills over four weeks. Price is for all four classes in the series.
Explore watercolor's great luminosity and flowing color while discovering its transparent pigments. Each pigment has unique and beautiful qualities. Over the four-week workshop series, participants will learn and develop personal approaches to the watercolor medium, mark making, brush control, and water manipulation for flowing paint.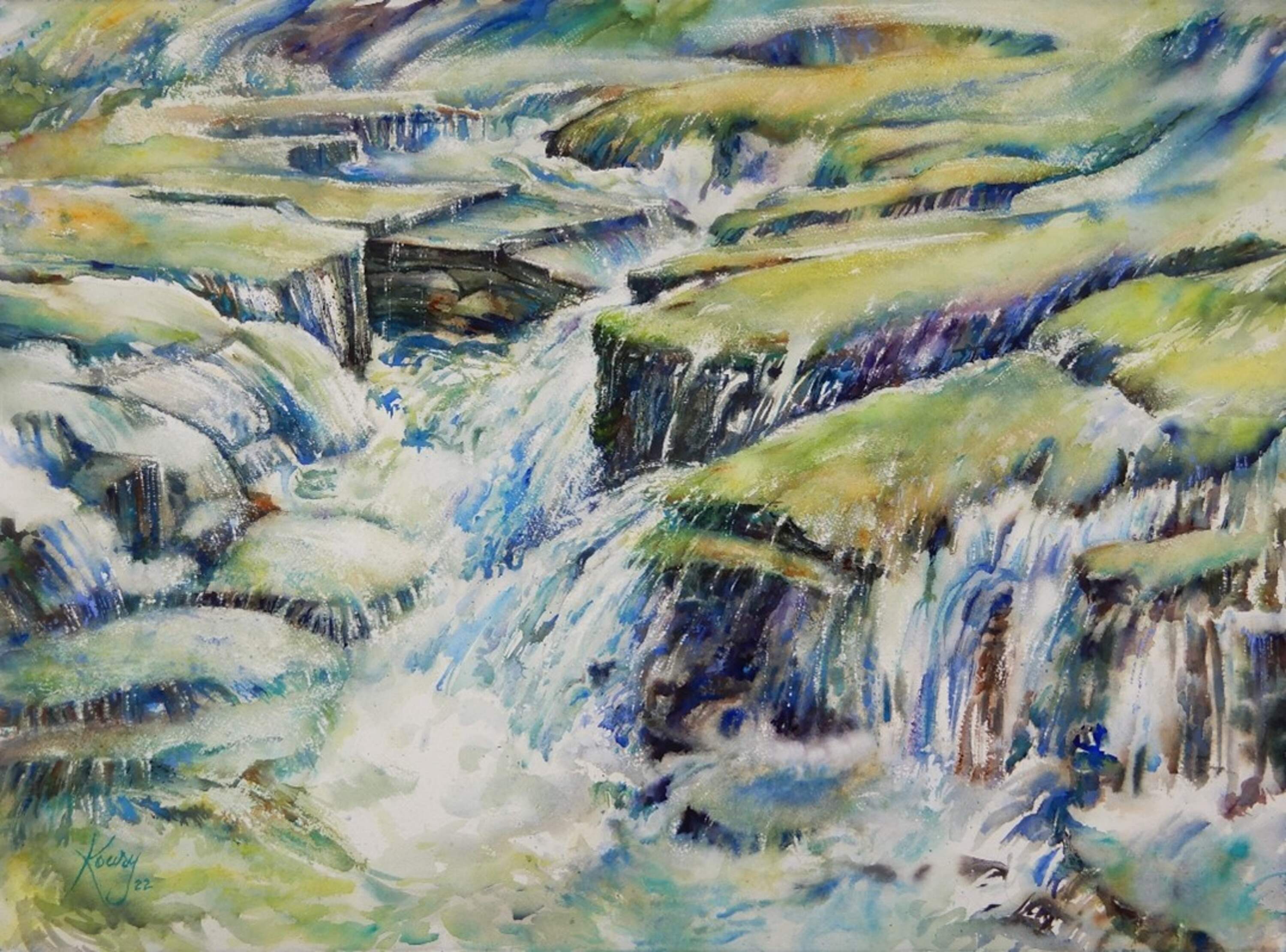 Week 1: Washes, gradations, and using water to facilitate the blossoming and movement of the paint.
Optional Homework- Paint a sunset and/or water scene of your choice with gradations of color.
Week 2: Definitive mark-making and brush control while using the full range of our brushes and paper.
Optional Homework- Paint a fluid interpretation of a floral and leaf pattern, pinecones, and tree branches of your choice.
Week 3: Edge control using water versus pigment ratio and paper dryness versus dampness ratio.
Optional Homework- Paint a similar image of the participant's choice in four different ways.
Week 4: Paint a personal piece with guidance from the instructor while exploring techniques learned in previous classes.
About the Instructor
An avid plein air painter, Jennifer Koury loves to be outside, experiencing the play of light and color on nature's forms. Her painting exudes her inner joy and passion for communing with nature and the emotions created by the energy and power of water, wind, sounds, shadows, and reflected light. For Koury, painting is a profound, spiritual connection to the world and its vibrancy and joy.
During the past several years, she has been an instructor in watercolor at the Burchfield Penney Art Center's International Center for Watercolor. In 2018, she was their Summer Resident Artist/Instructor, teaching a weekly series of watercolor workshops inspired by the exhibition, Suddenly I Awoke: The Dream Journals of Charles E. Burchfield.
Meibohm Fine Arts represent Koury, East Aurora, NY, and she is a featured artist in Luminance, a four-person Group Watercolor Exhibit at Meibohm Fine Arts. Visit Koury artist page.
Koury has enjoyed a rewarding career as a dedicated painter, freelance illustrator, and designer. Her watercolor artwork is published in both children's and adult books. A previous finalist in the Chautauqua Annual Exhibition of Contemporary Art, Koury's work can presently be seen in private and public collections. Her work is featured at George Washington's Mount Vernon and the children's wing of Yuma Regional Medical Center. She is a member of the Buffalo Society of Artists and a signature member of the Niagara Frontier Watercolor Society. After graduating from Virginia Commonwealth University, Richmond, Virginia, with a BFA in Painting and Printmaking, Koury continued her studies graduating in Illustration from Art Center College of Design, Pasadena, California. She currently lives in Western New York, enjoying its beauty with her family. Artist's Website: jenniferkouryart.com
For further information, contact Kathy Shiroki at shirokkg@buffalostate.edu, 716.878.3549.