Creatively Influenced by The Lipsey Glass Collection
Artist/Instructor: Jennifer Koury
Wednesdays, June 7, 14, 21, and 28
$150 for members, $190 for not-yet-members
Participants bring their own materials.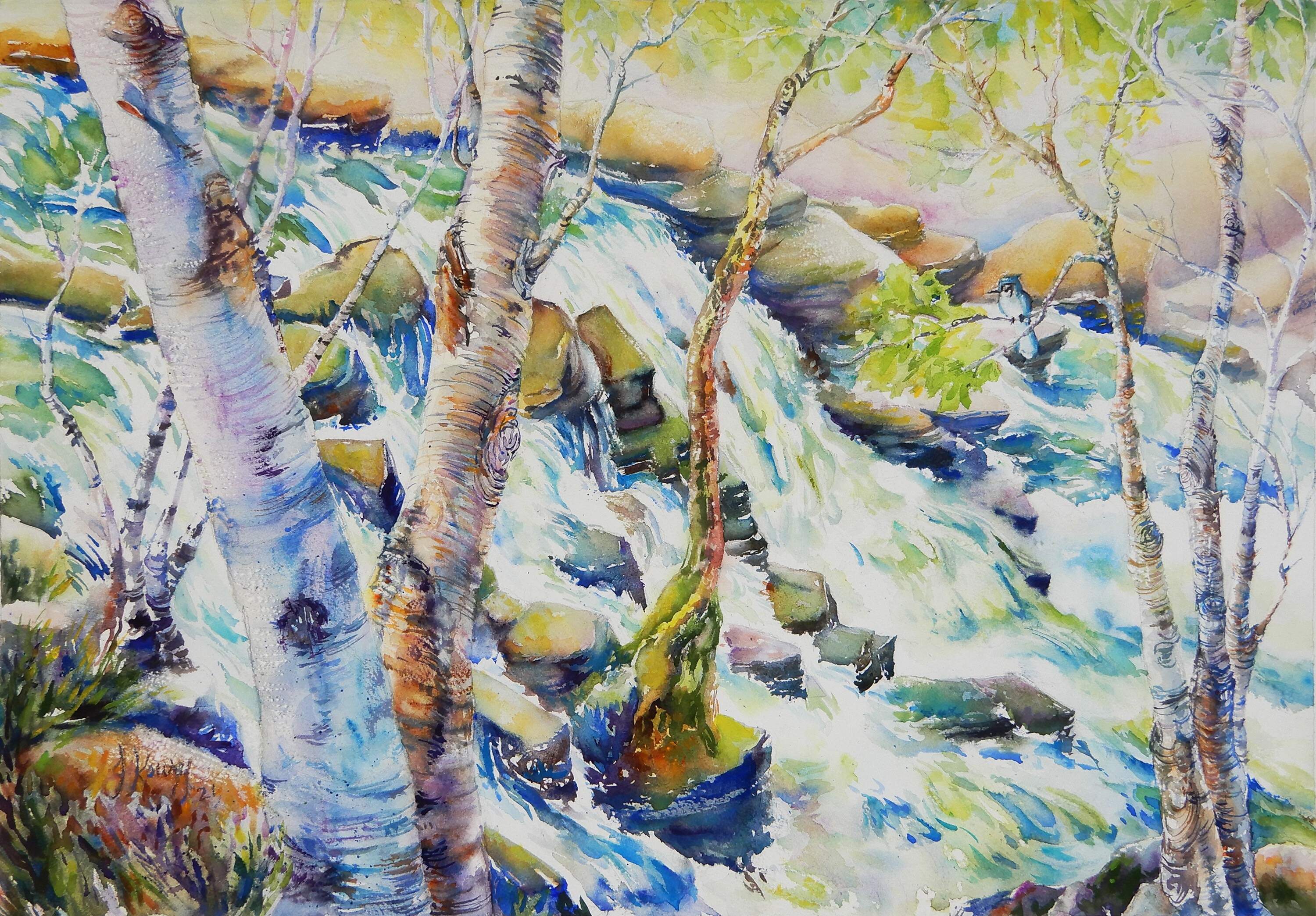 About the Series
The Lipsey Glass collection on exhibition at the Burchfield Penney Art Center magnifies the use of color, shape, and form in its reflective and transparent qualities. The color spectrum becomes infused in the transparent glass. Each work exhibits color in its purest form as light passes through it. Our eyes react similarly to light passing through watercolor pigments to reflect pure color and brilliance.
Throughout the Color and Design Watercolor and Gouache Series, participants will use value, followed by developing color studies to discover their exceptional designs. Participants will experience the processes as an artist while developing a thoughtful stronger final work.
Paintings may be based on either abstract color patterns, nature, or landscape forms. Colors might include cool and warm temperatures and complementary, or analogous relationships.
Ideas can exhibit colorful reflective light, cast shadows, and repeat patterns or shapes. Participants are encouraged to think about the dimension of the painting, developing a 2-D work or creating a layered, 3-D sculptural painting.
Class Materials:
100% Cotton Rag Watercolor paper and backing board.
Your favorite brushes, watercolors and/or gouache or acrylic, and palette
Photo references you might be interested in, and artists who inspire you with color
H, 2B, and 6B graphite pencils, erasers, masking tape, several paper towels
Tracing paper pad, scissors, Scotch magic tape, and/or Elmer's glue
Colored pencils (Optional)
Inks (Optional)
About the Instructor
Jennifer Koury, an avid plein air painter, loves to be outside experiencing the play of light and color on nature's forms. Her painting exudes her inner joy and passion for communing with nature, and the emotions created by the energy and power of water, wind, sounds, shadows, and reflected light. For Koury, painting is a profound, spiritual connection to the world and its vibrancy and joy.
During the past several years, she has been an instructor in watercolor at the Burchfield Penney Art Center's International Center for Watercolor. In 2018, she was their Summer Resident Artist/Instructor, teaching a weekly series of watercolor workshops inspired by the exhibition, Suddenly I Awoke: The Dream Journals of Charles E. Burchfield.
Koury is represented by Meibohm Fine Arts, East Aurora, NY, and she is a featured artist in Luminance, a four-person Group Watercolor Exhibit at Meibohm Fine Arts. Visit Koury's artist page.
Koury has enjoyed a rewarding career as a dedicated painter, freelance illustrator, and designer. Her watercolor artwork is published in both children's and adult books. A previous finalist in the Chautauqua Annual Exhibition of Contemporary Art, Koury's work can presently be seen in both private and public collections. Her work is featured at George Washington's Mount Vernon and the children's wing of Yuma Regional Medical Center. She is a member of the Buffalo Society of Artists, and a signature member of the Niagara Frontier Watercolor Society. After graduating from Virginia Commonwealth University, Richmond, Virginia with a BFA in Painting and Printmaking, Koury continued her studies graduating in Illustration from Art Center College of Design, Pasadena, California. She currently lives in Western New York enjoying its beauty with her family.
For further information, contact Kathy Shiroki at shirokkg@buffalostate.edu, 716.878.3549.