SALMA AKTHER
Research on Artist
Robert L. Wood is a Western New York clay and mixed media sculpture artist. Wood received his Master of Fine Arts in Ceramics from Indiana State University and his Bachelor of Arts from the University of Dallas. He is a professor in the Design Department and coordinator of the Ceramics Program at Buffalo State College, where he has taught for over 30 years. He has been featured in over 200 exhibitions at the regional, national and international levels. He has served as a juror for more than a dozen other national exhibitions as well.

Artist Idea + Concept
Wood often combines clay and glass in his works, two elements with contrasting aesthetics and properties. Noting the differences between these two frequently employed forms, he writes: "Glass provides depth, transparency and translucency, reflective and refractive qualities, and how light reveals that which is internal. In contrast, clay represents opaqueness, solidity, and mass; it captures and responds to how it was formed and manipulated, recording its history. Utilizing the contrasting aesthetic nature of these materials allows the opportunity to examine and explore, to exploit their properties to reveal content and expression."
Explore the relationships and connections between content, aesthetics, form, and material, he reveals the emotive power, mystery, and felt experience that exists within this context.
Referencing history, identity, technology, and how technology examines and records evidence of identity, of self, he often includes fragments as bits of information to be mined for potential clues to identify its origins; to provide content and context, yet at the same time maintain the mystery and intrigue of incompleteness.

What + Why?
One of his first art pieces that caught my eye in what he named Vacillation. The color, the shape, the pattern, the design make it so beautiful.
When I search for the other artworks that he did, I absolutely loved it! All of them were so incredible and so uniquely made. By looking at the artwork you can identify that it's done by him because he mostly uses semicircle and circle shapes in his artwork. Also, different types of objects and materials are used in the artwork. Such as broken plates, locks, glasses, metal springs, small pieces made out of clay and so many other things.
At first, I choose Charles E. Burchfield and I wanted to work with one of the famous spiky shapes that he often used in his paintings and drawings, but we already talked about him and his art in class. So, I wanted to explore other artists' work and found Robert L. Wood and fell in love with his work. I also got very surprised when I learned that such a big artist is a professor at our college, I felt proud!
Object: House/Building 1st Idea
[Inspired by two of his works] I did my 1st sketch. I took the Idea of a semicircle shape for the house then I took the manhole cover design [another Wood design]. So, basically, It will be a semicircle shape house. There will be a couple of windows, the whole thing will be made with glass and the door will be in the middle of the semicircle.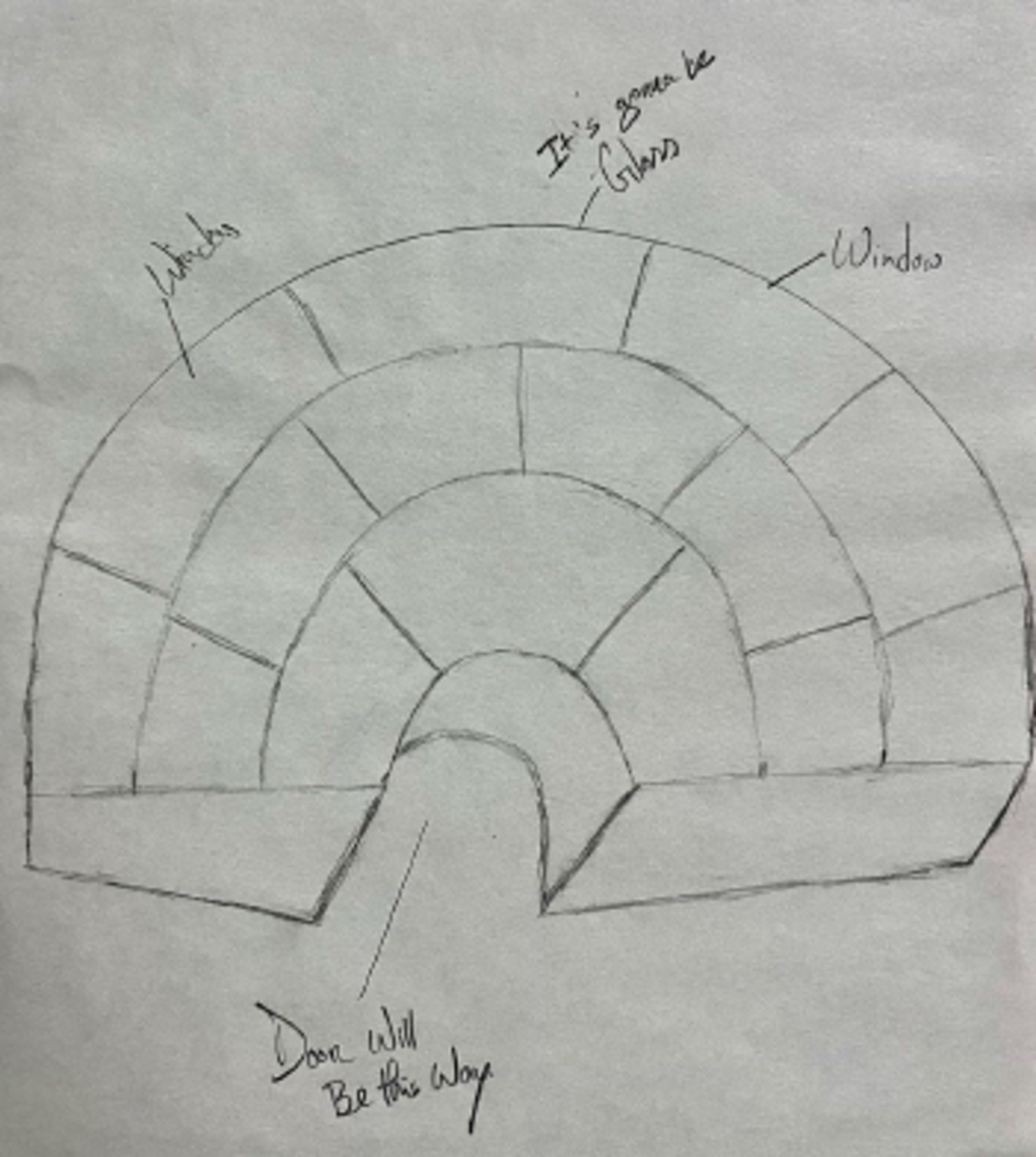 Object: House/Building 2nd Idea
Here is my 2nd sketch.
I took another artwork done by Wood and try to turn it into a unique building. Since the artist used a lot of semicircle and circle shapes in his artwork, I used the circle shape windows for the building and the moon shape at the top. The whole moon will be made out of glass. I put a dome at the top of the pointy cone. And the artist used a lot of metal springs in his artwork; therefore, at the very top, there will be a sculpture of the metal spring.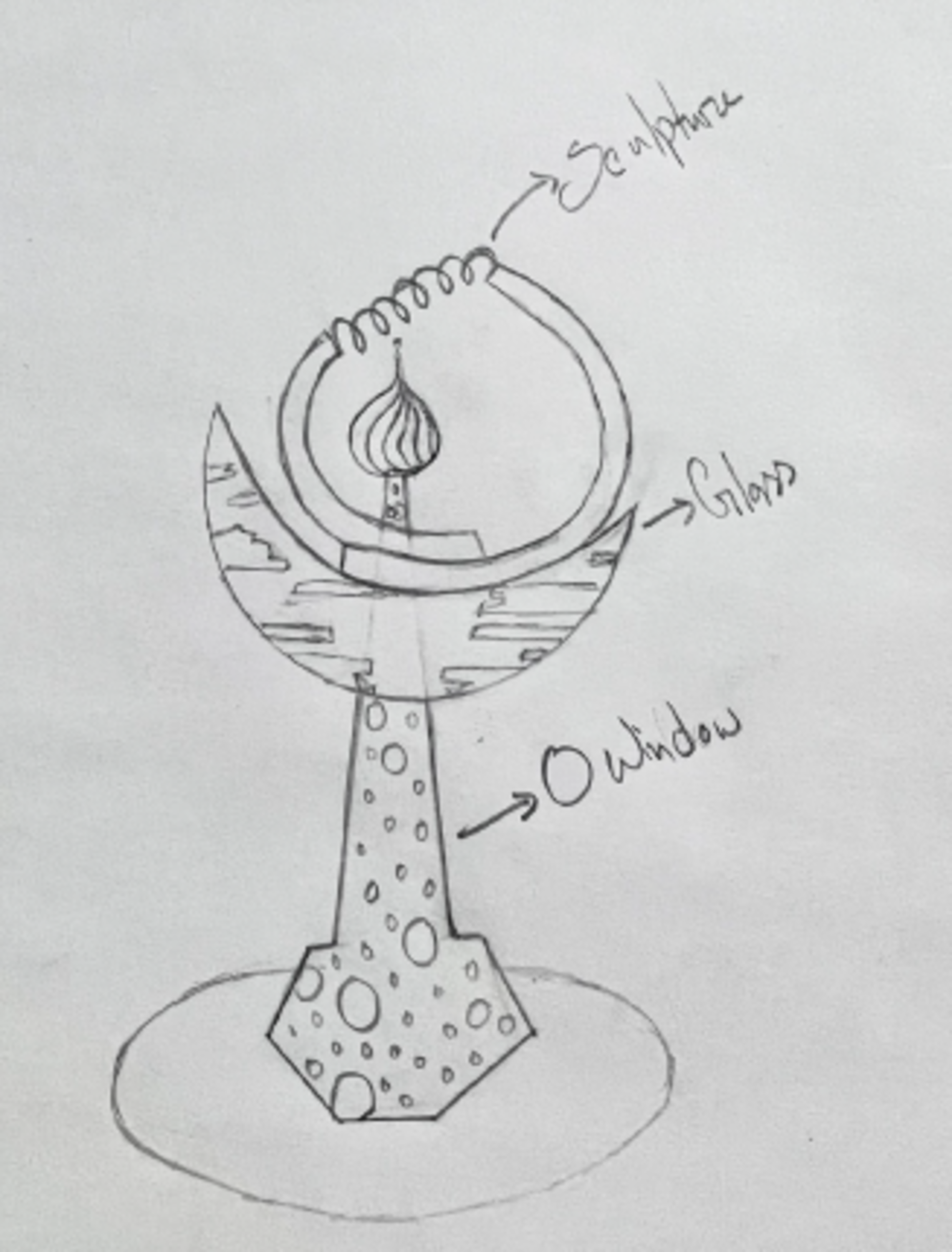 Object: House/Building 3rd Idea
Here is my 3rd sketch.
I choose this artwork (New World Order, 33/50) and made it into a building. Then added stairs in the middle and the right bottom design will be on the one side of the building. Below the rooftop, that will be a restaurant and the whole thing will be made out of glass and clay since our artist is a clay and mixed media sculpture artist. At the very top, I put a round sculpture because Wood used a lot of round shapes in his artwork.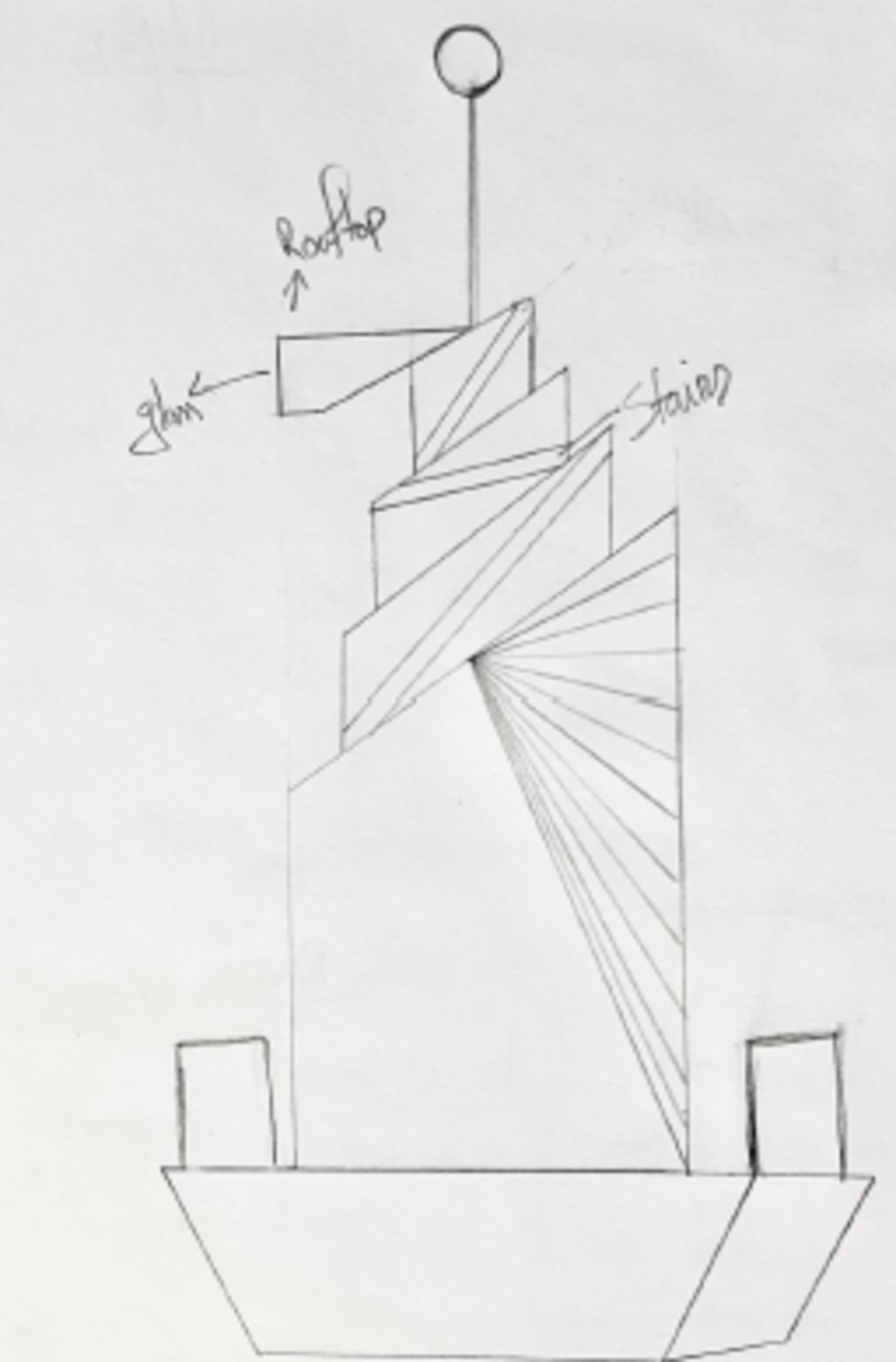 Final Idea
I used another building design for the 3 top layers of the building, the Hearst Tower. After that, I added a metal spring at the very top. Because as I mentioned before, the artist used a lot of metal springs in his artwork. Also, I choose to work on my 3rd sketch because I like the 3rd sketch out of all the other sketches. And the finished look made my 3rd sketch more realistic and beautiful. I felt like it can be a real building that architectures will choose to build. I like the whole design!
Final Look
Here is the final look at my building.
There will be two outdoor sculptures outside of the building that will be made by Wood. In terms of color, for example, the very top round sculpture would be teal ocean color (I learned that name from Monday's classes). That's my favorite color but I never knew the name of the color. Also, the artist used that color in his lot of artworks. So, that would be the best color to go with!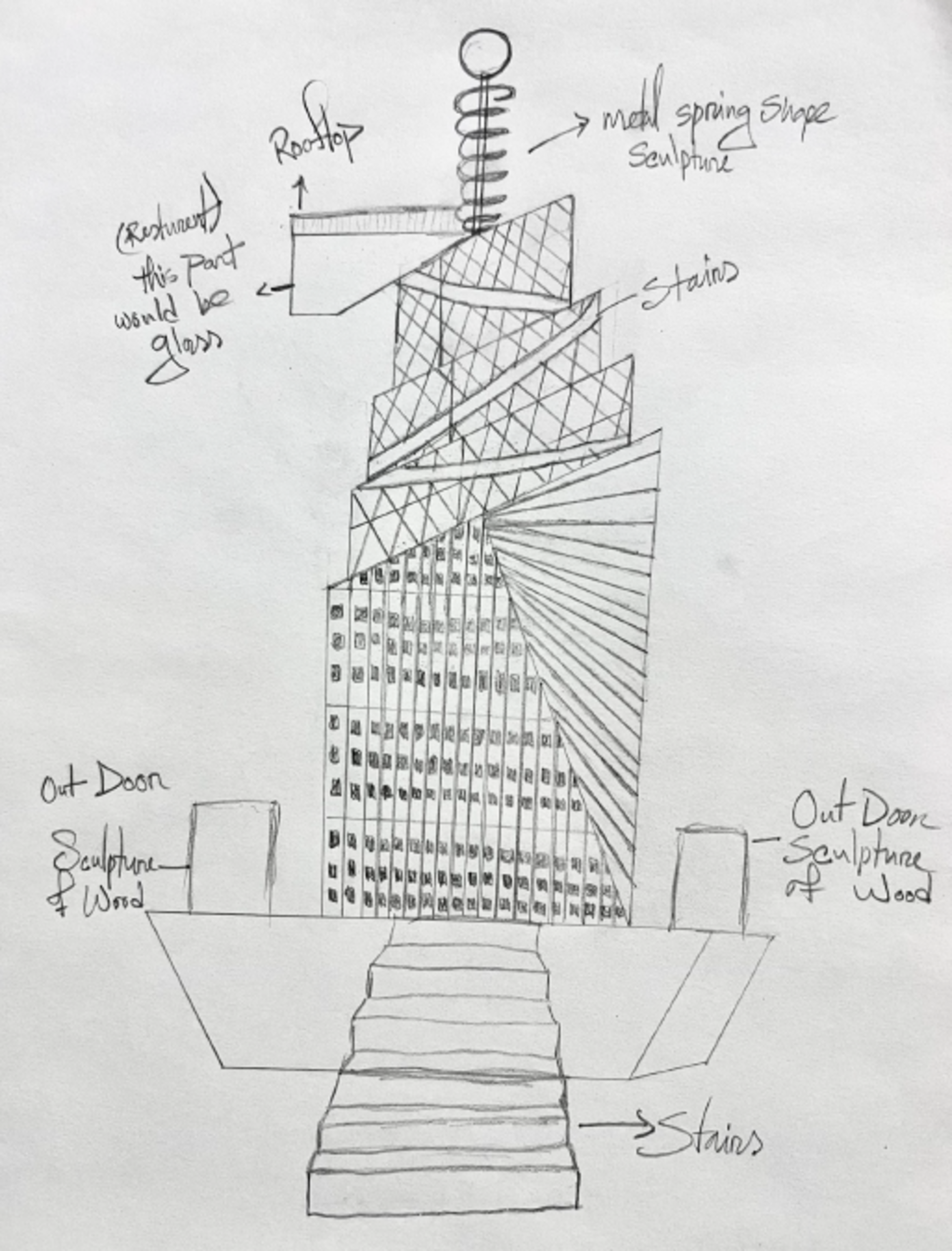 Design Elements + Principles: Pattern, Design, Progression, Symbol, Function, Plane, Size, Shape, proximity, and join.